Table of Contents
type

:

gateway

name

:

Bambora

countrie

:

US

,

CA

support-added

:

0.7.2

auth-net-emulation

:

no

supports-3dsecure

:

no

gateway

:
Bambora (Formally Beanstream)
Setting Up Bambora for FoxyCart
To activate requests hashing check "Require hash validation on all Payment Gateway transaction requests" option and put the hash key you want to use into "Hash key" field. Choose "SHA-1" hash algorythm: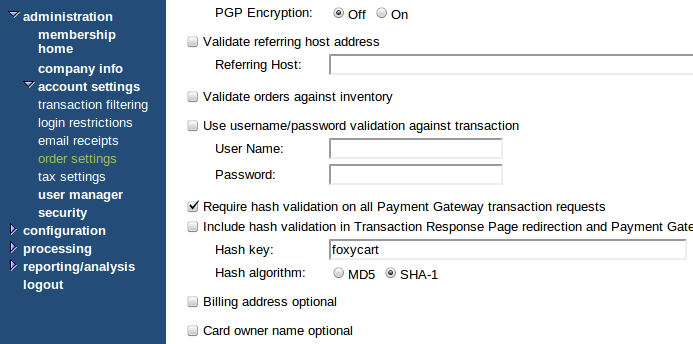 If you would like to allow Pre-Authorization transactions make sure you selected "Purchase or Pre-Authorization only" in "Transaction Validation Options":
Testing
Obtaining a Test Account
Click here to create a test account from the developer portal.
Test Card Numbers
Visa - Use CVD/CVV code "123"
Approved 4030000010001234

Approved $100 Limit 4504481742333

Approved VBV 4123450131003312 with VBV passcode 12345

Declined 4003050500040005
MasterCard - Use CVD/CVV code "123"
Approved 5100000010001004

Approved 5194930004875020

Approved 5123450000002889

Approved 3D Secure 5123450000000000 passcode 12345

Declined 5100000020002000
American Express - Use CVD/CVV code "1234"
Approved 371100001000131

Declined 342400001000180
Discover - Use CVD/CVV code "123"
Approved 6011500080009080

Declined 6011000900901111
Troubleshooting & Interpreting Response Codes
Contact Bambora for info. Know more? Feel free to edit this page with info.
Important Notes and Caveats
User Notes and Experiences
If you have tips, experience, or helpful notes related to this gateway that would benefit others, please add them below, including your name and the date. We reserve the right to edit or remove comments that don't add value to this page.
Page Tools