Table of Contents
Multi-Ship: Multiple Shipping Addresses on a One-Page Checkout
What is Multi-Ship?
FoxyCart's "Multi-Ship" functionality allows for a single order to contain multiple "sub-orders" of sorts, each of which can be shipped to a separate address. While this option really doesn't make much sense for a "normal" store, it can be a fantastic option for merchants selling things like gifts, cookies or desserts, or other items that typically are purchased by one person but shipped to multiple locations.
While it is a little more advanced than the standard single-ship checkout process, it's really not that bad, and can be a very profitable feature if the product and target market are right.
How Multi-Ship Works
Multi-Ship works by adding a ''shipto'' parameter to any products added to the cart. The value of the shipto can be anything, but we recommend a quick bit of javascript (displayed below) to keep shipto values consistent and easy to manage for your customers.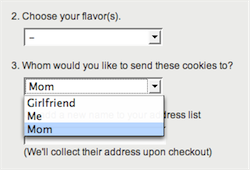 When multi-ship is enabled for your store you'll notice that your cart now displays products grouped by "ship to" headings, and the checkout (displayed below) also has different functionality in the shipping address section.
Each shipto address can accept custom fields per ''shipto'' (as displayed above), and each shipto section will receive its own shipping options as configured for your store. It also will display a per-shipto subtotal, and all of this will be reflected in the email receipts as well.
Worth noting is that, like all product options, a shipto value cannot be changed on a product once it is in the cart. Products can be removed and re-added, but not modified, so you'll want to make it easy for your customers to view their cart in order to remove products as necessary.
Page Tools