Table of Contents
type

:

gateway

name

:

Cybersource Hosted

countrie

:

US

,

GB

,

JP

support-added

:

1.1.0

support-removed

:

1.1.0

gateway

:
Cybersource
Setting Up Cybersource for FoxyCart
Save, and then open the resulting file HOP.php, and search for "function getSharedSecret()" to get the value. Copy all the letters/numbers in between the double-quotes: this is your Shared Secret Key. Make sure to keep a copy of this key in a safe place as it can not be re-generated.

.
The Hosted Order Page Security page will now contain a "Serial Number", which you will use along with the shared secret to configure the plugin.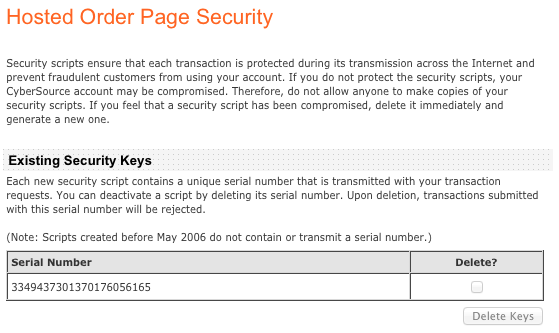 .
Login to your FoxyCart admin. Click the "payment" link under "STORE". Set your payment method to Cybersource.com.

Add your credentials and save.
If you don't see "Hosted Order Page" menu under "Tools & Settings", please contact Cybersource Support.
Testing
Obtaining a Test Account
Test Card Numbers
Important Notes and Caveats
FoxyCart Subscriptions aren't supported with Cybersource Hosted Payment Page yet.
If you get a debug page listing USD as an invalid currency you've probably listed USD in the "rejected currency" list on accident, or unchecked the "Credit Card" in the Hosted Order Page settings (or have all the credit cards unchecked). To resolve this, log into the CyberSource Business Center > Tools and Settings > HOP > Settings and verify that you have the correct payment methods selected and that you have corrected specified USD as a valid currency (by default, all currencies are listed as valid).
Source: https://support.cybersource.com/cybskb/index?page=content&id=C594&actp=LIST
User Notes and Experiences
If you have tips, experience, or helpful notes related to this gateway that would benefit others, please add them below, including your name and the date. We at FoxyCart reserve the right to edit or remove comments that don't add value to this page.
Page Tools